A cost effective alternative to heat your home
Air source heat pumps work by transfering heat from ambient air to water in the home. They a very energy efficient, this is because the energy input (electricity) is used to move to move heat rather than generate heat. Heat pumps provide much more energy than they consume, it can be as much as 4kw of useful heat output for 1kw of electricity input
Basic explanation of how heat pumps work
In air conditioning or refrigeration, heat is extracted from an area where the heat is not wanted and deposited into the air outside. Heat pumps work in reverse of that. They extract heat from outside air (even in cold weather – well below freezing) and transfer it into either a hot water cylinder, under floor heating, radiator or fan coil units which blow warm air
Air source heat pumps are extremely efficient and are an excellent alternative and are more energy efficient and environmental friendly than even the latest gas condensing boiler systems. They are also ideal for properties which do not have a gas supply and are relying on expensive or low energy efficient resources to heat and/or provide hot water. We offer these installations to remote, rural locations for farms, cottages, holiday letts, family homes and businesses.
The main key is the efficiency with which heat transferred from outside to inside, especially colder climate conditions. This is the reason why air source heat pumps have been so successful. The heat pumps high efficiency means less energy is required to produce hot water or heat a home, saving on running costs and reducing the impact on the environment.
Andersons are accredited Samsung heat pump installation engineers.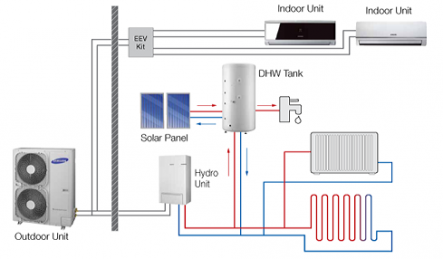 Andersons AC are based in the Bolton and cover Heat Pump Installations anywhere in the UK. If you need a Heat Pumps installed then get in touch with Anderson's and we will discuss your requirements. If you don't have gas supplied to your property then Heat Pumps could be the solution and much cheaper than storage heaters or oil central heating systems.
View some of our latest heat pump projects here:
Air Source Heat Pump Installation/
http://andersonsac.co.uk/Air to Air Heat Pump Installed Bolton/
Contact Andersons on 07807 092076 for a fantastic quote !